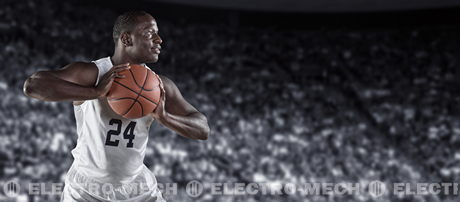 The UCONN basketball history is rich with famous players, many titles and unrivaled success for their venerable, Hall of Fame coach Jim Calhoun. Under Calhoun's watch, the Huskies have made it to the Sweet Sixteen in 12 of his 15 years and to the Final Four three times. Most impressively, two of those appearance became NCAA National Titles. Their teams have also featured UCONN basketball players who have gone on to have very successful professional careers, including: Ray Allen, Richard Hamilton and Clifford Robinson. Lately, though, times have been shaky for the Huskies as they have had to endure a firestorm of credibility issues including NCAA drug testing violations for some players and violating NCAA rules for recruitment.

Sure, UCONN knows how to light up electronic basketball scoreboards around the country. They also, apparently, know how to violate some NCAA rules.
The NCAA drug testing problem erupted in early 2008 when UCONN basketball players Jerome Dyson and Doug Wiggins were randomly tested and failed. Though the exact drugs are not revealed under NCAA rules, it is widely believed that they fell into the category of recreational drugs. It was was a big blow to the Huskies, who pride themselves on having a clean program. Both Dyson and Wiggins were guards that were producing in their sophomore campaigns when the drug tests removed them from play. Dyson, who served a nine game suspension, returned to play for the club one month after the discovery. Wiggins only served a two game suspension and had returned to the club a week later. Dyson played in 2009, keeping his scoring average at 13 points per game for the Huskies. Wiggins is on a different trajectory, first transferring to UMASS and then getting suspended and kicked off the team for further violating NCAA rules. The UCONN character checks will need to be beefed up in the future.
Probably the most severe case against UCONN wad for violating NCAA rules against early recruitment of a guard named Nate Miles. Yahoo! Sports broke the story in March 2009 with details of the recruitment process by Josh Nochimson, a former NBA agent who quit when he was accused of stealing $1 million from Richard Hamilton. Nochimson was listed as a UCONN associated person who was frequently recruiting UCONN basketball players. Yahoo! uncovered that during the two year period in which Miles was playing in high school, the UCONN coaching staff contacted Miles over 1,500 times, a huge excess of the once-per-month NCAA rule for high school students. The NCAA is also accusing UCONN of paying for Miles to attend through paid lodging, meals and gifts. At the time that charges were made, Miles was attending UCONN on a scholarship. Once it was discovered the team suspended Miles, who then was charged in a rape case, found guilty and violated his probation 16 minutes later. Miles was expelled from UCONN but the full penalties from the NCAA are not yet known. These episodes have been a PR nightmare but UCONN basketball history will stay intact and eventually, if no other problems arise, the program will once again be the pride of the NCAA.