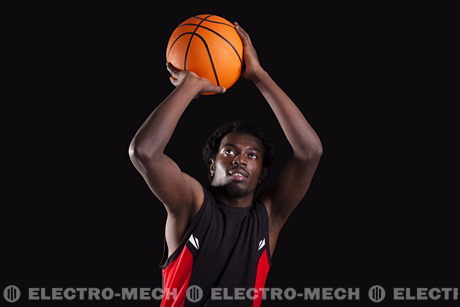 Basketball can be an uncharacteristically violent game, when in the heat of the situation the players lose their tempers and lash out, not only at the opposing team players, but also at the spectators. In instances where the players willfully hurt spectators and fans, the punishment handed out to the players are harsh, and rightly so. In this basketball scoreboards article I have taken a look at the longest suspensions awarded to NBA players over the years and the circumstances encircling those suspensions.

1.86 Games, Ron Artest – Artest's showdown at the Palace of Auburn Hills, popularly known as the "Malice in the Palace", was how he made NBA history when he was awarded an 86 games suspension. This is the longest suspension given to any NBA player in a non-drug related capacity. With the basketball scoreboards showing that there were just a few seconds left on the clock, it all began when Artest fouled Detroit's Ben Wallace, and soon the players from both teams jumped in. However, Artest's antics didn't end there; as he was lying on the scorer's table a spectator threw a disposable cup at him, hitting him in the chest. Enraged, he walked into the stands and started assaulting a man he mistook for throwing the cup. Taking his team mate's lead, Stephan Jackson also entered the stands and started throwing punches at random at the spectators. Artest, along with several other players was, rightfully, suspended for the remaining season (73 games) as well as from 13 playoff games. Through his 86 games, he lost $7 million worth of pay.
2.68 Games, Latrell Sprewell – before this incident, Sprewell already had a history of violence and threatening other players and members of the team. However, the outburst that earned him the 68 games suspension came in 1997. During a practice, the Warriors' coach, P.J. Carlesimo criticized Sprewell by way of a yell, to improve his passing game. Infuriated by which, Sprewell came up to the coach and threatened to kill him. However, it didn't end there; he followed the threat with a visual demonstration and started chocking the coach. This earned him a yearlong suspension, and the termination of his contract with the Warriors. However, later his termination was overturned and his suspension was reduced by 5 months, translating into a suspension of a total of 68 games.
3.30 Games, Stephen Jackson – as already mentioned, Jackson was the one who followed Artest into the stands during the "Malice in the Palace". Considering that he started to assault the fans unprovoked he should have received a harsher punishment. Later, the players' union appealed his suspension, as well as for the other players involved, but the League stuck to its decision and upheld Stephen Jackson's original suspension of 30 games.
For more information on Stephen Jackson, go to:
http://en.wikipedia.org/wiki/Stephen_Jackson