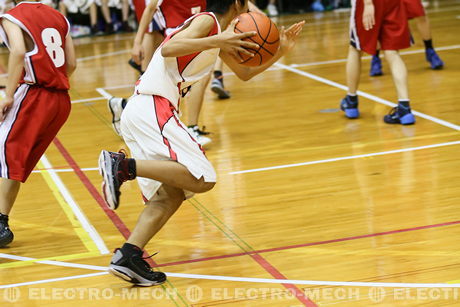 We've loved to see these amazing NBA players lighting up the scoreboards across the country.
Ask anyone the question of who they think were the greatest players in NBA history and you're almost certain to get a different answer each and every time. The issue is always hotly contested among all types of fans no matter what their age or gender. So without further hesitation and in no particular order, I present my list of the ten greatest players in the history of the NBA.
Although I never saw them play live, old film and highlights provide enough examples of why Bob Cousy and Bill Russell are the first two players on my list. Cousy was the consummate floor general who could score as well as pass while Russell was the most dominant rebounder and shot blocker that ever played. These two teammates played on the great Celtic teams of the 1950's and 1960's, a team many consider to be one of the greatest ever.
Wilt Chamberlin, Jerry West and Oscar Robertson were three of the most prolific scorers of their time and for that reason alone, I would include them on my list of greatest players. The stats back up Wilt as the greatest scorer and most dominant player ever to step on a court. His record for most points in a game will never be broken. Oscar Robertson was a dynamic player who could do it all; as proven by the number of triple doubles he posted during his career. I've heard many stories from relatives about Jerry West and his knack for hitting the big shot. Not many fans, or New Yorkers for that matter, could forget his half-court shot during the 1970 Finals.
During the 1980's, Larry Bird, Magic Johnson, and Julius Erving were the dominant players in the NBA. It seems like these three teams were constantly in the running for the title throughout the decade. After starring in the ABA, Dr. J became a league MVP and led the Philadelphia 76ers to victory in the 1983 NBA finals. He was the type of player whose moves would leave fans shaking their head in disbelief long before Michael Jordan laced up his sneakers. During the mid 1980's and early 1990's Larry Bird and Magic Johnson participated in one of the greatest rivalries in all of sports. Although each player was capable of putting up MVP caliber numbers, their greatest attribute was their ability to elevate the players around them.
Michael Jordan and Shaquille O'Neal are the last two players to round out my list. Shaquille O'Neal may seem like a surprising choice to some, but having followed his career closely since his days at LSU I've come to the conclusion that no one could physically dominate a game quite like O'Neal. At 7'0″ and 300 plus pounds, there were not many opponents that could match up with him physically. Although it is not a recognized statistic, O'Neal is definitely the all-time leader in broken backboards.
Finally, what else could possibly be said about Michael Jordan that hasn't been said already? Many, including myself, consider him the greatest player ever. Not just because of his incredible run as the scoring champion, but mainly because of the way he elevated all aspects of his game to become the consummate champion of the 1990's.
So there you have it, my all time ten greatest players in NBA history. Let the debate begin.