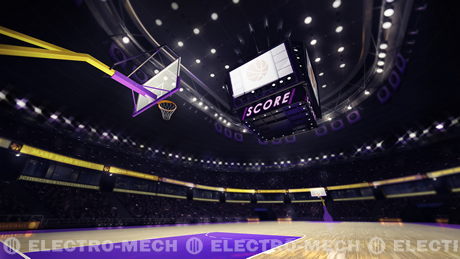 Sue Bird, often called the best WNBA player during her career, came from a small town and from a family without any sports history. The Sue Bird basketball story has become well-known, rising from modest beginnings into an All-American with championship success at every level.

Working at a company that produces electronic basketball scoreboards, Electro-Mech employees, most of us fans (and some fanatics) understand the importance of sports reporting. That's why we make sure to keep up with not only the latest and greatest in basketball and other sports news, but all sports news, as this article on Sue Bird is a great example.
The Sue Bird biography begins with her birth in Syosset, New York in 1980. She went to high school in Queens, New York at Christ the King RHS, a Catholic school known for its basketball programs. Heavily recruited by nearby University of Connecticut (UCONN), she joined them as a freshman in 1998. Even though this is one of the most famous basketball programs in women's basketball, Bird immediately became their starting point guard. She lead them all four of her years as a started becoming a deadly three-point shooter and left the school with over a 90% average from the free throw line. Twice, in 2000 and 2002, her UCONN team won the NCAA Championship. During her senior year, the Huskies went an incredible 39-0 during the season. At UCONN, she was a Dean's List academic student and an All-American and is one of their best players in history.
A Sue Bird WNBA pairing began shortly after this in 2002 when she was drafted as the number one overall pick, the first time a point guard was chosen in this elite position. The Seattle Storm were the lucky team to draft her and through 2009 she remained on that team. In that first season, Bird lead the team in scoring with better than 14 points per game, in assists at 6 per game and with three-point shots made with 57 on the year. She was elected to the All-WNBA First Team that season. In 2004, the Storm won the WNBA Championship Title behind a strong season by Bird in which she made 43% of her three-point shots, averaged 13 points and 5 rebounds. Since that time the Storm have not made it back to the Finals, losing three of four seasons during the Western Conference Finals. For Sue Bird WNBA is just one of her outlets for basketball. During the offseason, she has played three times in the Russian basketball league with others from the WNBA. Her Dynamo Moscow team reached the Russian Championships in 2006.
Another highlight in the Sue Bird biography is her play on two US Olympic Women's Basketball teams. In 2004, she appeared as the starting guard for the US team, despite being the youngest player on the team. That team, and the successive team in 2008, won the Olympics in grand style, going 8-0 with Bird playing a minor role average 3 points a game behind established players like Lisa Leslie, Sheryl Swoopes and Tina Thompson. In 2008, the US team again won every game and Bird split point guard duty with Kara Lawson. In the finals, the US beat Australia by 30 points as an example of how thoroughly they dominated the field.