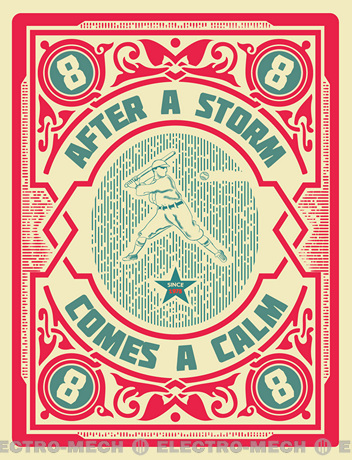 I grew up sitting in the bleachers, watching my Mom play on a women's team in Missouri. This was a team of working women, most of the moms, and were some of the hardest playing games I ever saw. With a semi-pro player like my mother, I couldn't begin to compete, but she gave us the legacy of the love of baseball. Another of her legacies was that we should never take ourselves too seriously. We shared many a day watching ball on television and laughed until tears ran down our faces when we saw a blooper, something silly or a player performing out of character. Some of these have become quite popular, being played and replayed on the electronic scoreboards to the joy of the fans.

The 4th of July game of 2008 was the Red Sox against the Yankees. When Kevin Youkilis sent a deep drive to left field, Johnny Damon went for it, running back to the fence. Unfortunately, he crashed into the fence (with an injury) – but the ball was left sitting at the top of the fence, just like Humpty Dumpty.
Without meaning to pick on Johnny Damon again, but this was a really good one. July 21, 2004 game, David Newhan, of the Baltimore Oriels sends a ball to center field and we then watch as the ball bounces off of the wall. Johnny Damon, of the Red Sox dashes madly to chase the ball and is all ready to throw the ball back. Then, BAM, suddenly Manny Ramirez shows up and makes a dive that cuts the ball off. Now we all know Damon has a weak throwing arm, but in this case, did we really need a three-man relay?
Long term Cubs fans may remember the year of 1969 as a year that just seemed cursed. Although most of that year they held the National League East first place, on the September 9th game at Shea Stadium, someone let a black cat out onto the field. The cat seemed comfortable, heading right for the Cub's dugout. He stopped by and stared at Ron Santo. It was a losing game for the rest of the day.
This situation was in spring training between the Arizona Diamondbacks and San Francisco Giants. Randy Johnson was pitching and threw one heck of a fastball. Suddenly, a dove flew in the way and all that can be said was there was a 'poof' of feathers everywhere. After a few minutes to figure out what happened, it was announced that the pitch didn't count. Arizona also, sadly, had one less dove.
You might have some of your own favorite and hilarious moments in baseball. In today's world, you can capture them on your smartphone, watch on the repeat plays on electronic scoreboards and even share them with friends for a potential viral video. These are the kinds of moments that temper some of the more serious with fun and makes American baseball our favorite sport.