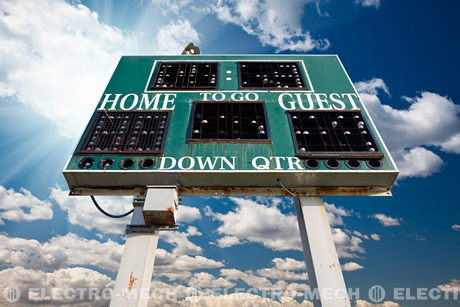 Used scoreboards can offer a fantastic value and great quality, at a price lower than you will pay for a new model usually. Scoreboard equipment can be costly, especially when you demand on top quality equipment, but often used scoreboards can save you a bundle, without making you choose between high quality and low costs. Electro-Mech offers top quality scoreboards designed to last many years without needing to be replaced. Sometimes scoreboards may be replaced before they need to be, because a new look may be desired. The used scoreboards still have years left of scorekeeping ability, and you can normally find this equipment at a fraction of the costs that a new model will cost you.

Electro-Mech offers excellent quality and customer service, and buying a used scoreboard from this company means that you are getting equipment that is the best quality possible, at a much lower price than you would usually pay. The used scoreboards you will find can range in model and type, but they are all ideal if you want high quality equipment that needs little maintenance, and will brighten your field or facility for years to come. Price is an important consideration, but so is quality, and one should not be sacrificed for the other. When you choose Electro-Mech for your used scoreboard needs, you will get excellent support and customer service, so you do not have to be concerned that buying used means a lower quality or a product that does not work as well.
Used scoreboards offered by Electro-Mech can help you get a fantastic scoreboard in great condition, but at a cost that is much less than you would expect to pay for the new model. The appearance of the scoreboard is still very appealing, but the models available may vary at any given time depending on what is currently available. Electro-Mech stands behind every scoreboard offered, and this is true of both the new and the used models. Before any used scoreboard is offered you are assured that it is completely checked out and tested, to make sure you will not have problems once you buy and install the scoreboard.
Buying used scoreboards does not have to be risky when you use Electro-Mech for your electronic scoreboard needs. You can find scoreboards for almost every sport, and a wide variety of models as well. You will get used scoreboards that have the same quality as new equipment, but you will save a substantial amount on this purchase. Your school or facility can get the equipment you want and need at a price that is unbelievably low, and best of all you do not have to worry about the value you are getting in the process. Electro-Mech is known as a company that stands firmly behind all the products offered, with a long and solid history of providing the best sports scoring equipment and scoreboards you can find anywhere. If you are going to buy used scoreboards, you want a company that you can trust, and with Electro-Mech that is exactly what you will get.