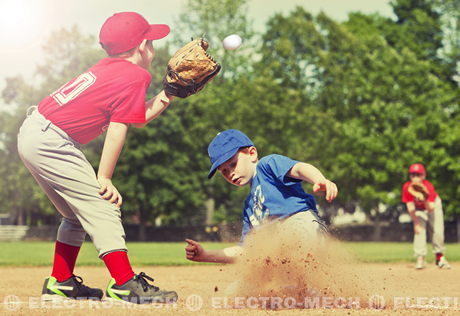 There have been a number of ice hockey injuries that exceed even what you'd expect from a league that freely allows fighting and clashing of all sorts. Here is a countdown of the all-time top 10 bizarre hockey incidents:
10. January 21, 1945. The so-named "Mush" Marsh earned his nickname when, after skating a career with his tongue dangling out, he collided with another player and off it came. No more heckling the other team for Mush.
9. November, 1949. Already recovering from an injury that left him on the bench, Toronto forward Joe Klukay was watching the game when an opposing player's stick accidentally clocked him in the noggin and sent him out cold to the hospital.
8. February 2008. Florida Panther Olli Jokinen tripped over an opposing player and sliced the throat of teammate Richard Zednik. Zednik immediately left the ice but bled profusely enough that he lost 5 units of blood and the zamboni took about 20 minutes to clean it up. He had successful surgery almost immediately after.
7. March 22, 1989. A similar accident sent Clint Malarchuk to the hospital with a severed jugular vein. This time it happened from an opponents blade and the amount of blood gushing caused crowd fainting and eventually required 30 stitches to repair.
6. March 31, 1964. Eddie Shack of the Leaf's fired a hard shot from way back and ended up shattering his wood stick in a rare accident. Even stranger, the shards of wood flew towards Boston's Giles Marotte and one of the splinters punctured his throat. Marotte was rushed to the hospital.
5. Year 1997. Brian Marchment took a header into the open penalty box door during a playoff game in Dallas. He lunged with such force that he had a concussion on the ice and, to the crowd's horror, began convulsing on the ice for several minutes.
4. October 25, 2008. The St. Louis Blues hosted then – VP candidate Sarah Palin so she could drop the opening puck. As a matter of course, a red carpet was unrolled and placed on the ice for the event. Goalie Manny Legace, apparently overwhelmed with excitement, did not notice the carpet and skated onto, immediately stopped and fell, injuring his hip and missing four games.
3. Joe Kocur, one half of the "bruise brothers," was known for hit incredible right-hand punches more than anything else he did in the league. He is the most penalized player in professional hockey history. He may have gotten some payback though, when while beating up opponent Larry Playfair, his hand connected with Playfair's teeth and was infected. He nearly had to have his famous right hand amputated but recovered in time to avoid this.
2. December 22, 1990. Paul Cavallini missed 13 games when he suffered with an index finger injury, in which he lost the tip of the finger, while blocking a Doug Wilson slapshot during a game versus Chicago. The tip of the finger was found in Cavallini's glove but it was unable to be re-attached.
1. Year 1930. As far as on-ice bizarre accidents, none will rival an incident that involved a player named Abie Goldberry who played as a junior in Quebec back in 1930. He was carrying a box of matches in his pocket while playing in a game (who doesn't?). When he was hit by a puck, the matches ignited, setting his uniform on fire. His teammates managed to put the fire out but not before he was badly burned.
Electro-Mech hockey scoreboards since 1963 in Wrightsville, GA. Electro-Mech helps to provide the best available sports information and news on this blog!