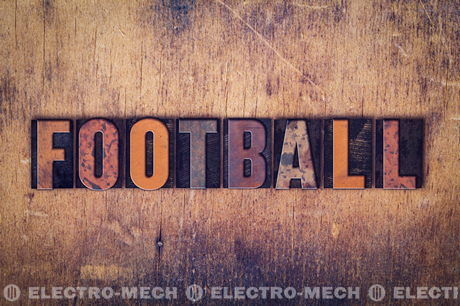 This year's Super Bowl was televised in 34 languages to 230 countries
The NFL has been scheduling a few regular-season games in foreign countries for four years now in an effort to spread American football fever
The International Federation of American Football is playing a key role in establishing organized American football in other countries

We here at Electro-Mech not only produce electronic football scoreboards but we're also big football fans. All we're saying is, it's about time that everybody else realizes how great of a sport American football is.
Super Bowl XLIII Was a Global Phenomenon
Media teams from 15 foreign countries were in Florida to cover the Super Bowl in February 2009. Some of the keenest interest was in Britain where two different networks had live feeds, with former NFL stars Jerry Rice and Rod Woodson providing commentary. Along with some of the world's most widely spoken languages, translations of game coverage were provided in Albanian, Danish, Flemish, Icelandic, Montenegrin, and Taiwanese Mandarin.
Halftime entertainment is part of the draw for foreign audiences, with stars such as Paul McCartney and Bruce Springsteen having performed in recent years. Cheerleaders are also part of the draw for international fans.
NFL Games Played Abroad
The first NFL regular-season game played on foreign soil was a contest between San Francisco and Arizona in Mexico City in 2005. The game drew a record 103,000 fans, and it was clear that international NFL games had a bright future. Regular-season games in London in 2007 and 2008 confirmed this success.
Preseason games played abroad have an even longer history. During the 1950s NFL teams occasionally traveled to Canada to play Canadian Football League teams. A few other exhibition games were played in Canada from 1969 to 1993, usually in Montreal or Toronto. In 1988 the Vikings defeated the Bears in an exhibition game in Sweden. Preseason games were played in Japan in 2002 and 2003. Beginning in 2005 the NFL switched its approach to playing regular season games rather than preseason games abroad. An exception was in 2008, when the Buffalo Bills journeyed to nearby Toronto to play an exhibition game against Pittsburgh.
The NFL's attempts at international growth have not been wholly successful. In 2007 it disbanded NFL Europe, a sort of minor league, after 12 years of existence. The games failed to draw crowds larger than 20,000 on a consistent basis.
International Organization
The International Federation for American Football (IFAF) governs a league of teams from several continents. The league generates little interest in the United States because the U.S. representative consists mainly of NFL castoffs. The federation has been holding a "World Cup" championship every four years. Japan has a history of success in the league, winning IFAF World Cup titles in 1999 and 2003 before losing a close game to the United States in 2007. The IFAF has increased its U.S. profile by organizing a junior world championship for high-school-aged football players in the summer of 2009 in Ohio. The game will be played next to the Pro Football Hall of Fame. Among the countries that will be participating are the United States and Canada; Japan; and Germany, Sweden, and France.